Product Description
ALPHA VEGAN PLANT BASED PROTEIN
FOR PLANT BASED MUSCLE GROWTH AND MAINTENANCE. A TRUE BODYBUILDER'S GO TO PLANT PROTEIN
100% vegan and vegetarian formula
21 g of

protein

from our ALPHA VEGAN Matrix blend
Added enzymes for easy digestion
Sacha inchi and chia seed for added omega support
Non GMO
No artificial flavors, colors, sweeteners or preservatives
No gluten, soy, dairy or wheat
Mixes easily and tastes GREAT
This Plant based protein is unlike any other on the market. It provides 21 g of easily digested protein from our ALPHA VEGAN matrix blend without the grainy, bitter taste of the typical plant protein. With BCAA's and glutamine to save and repair hard earned muscle and digestive enzymes to aid in digestion without compromising the taste or silky smooth texture. Our formula was designed with all lifestyles in mind and is 100% vegetarian and vegan friendly.
Are you aware that it's recommended your daily caloric intake consist of at least 15-35% protein?
Since most of us get our protein from animal meat and other dairy sources, getting enough protein in their diets can be quite a dilemma shared by vegans and vegetarians alike.
As a matter of fact, there's not really much need to eat meat in order to nourish your body. This is because there are plenty of all natural plants which provide us with the same amount of protein as fish, meat or poultry. PLANT BASED PROTEIN is actually a whole lot healthier for you because it generally contains lower levels of saturated fat compared to meat or dairy based protein. Not to mention, plant based proteins contain absolutely no hormonal additives and are exponentially easier to digest than meat and dairy.
To ensure your body gets the appropriate amount of essential nutrients, we have specially formulated our ALPHA VEGAN Plant Based Protein. Our exclusive powdered formula includes a unique blend of various plant based proteins, along with BCAA's (Branched Chain Amino Acids) and glutamine to naturally build, repair and sustain healthy muscles.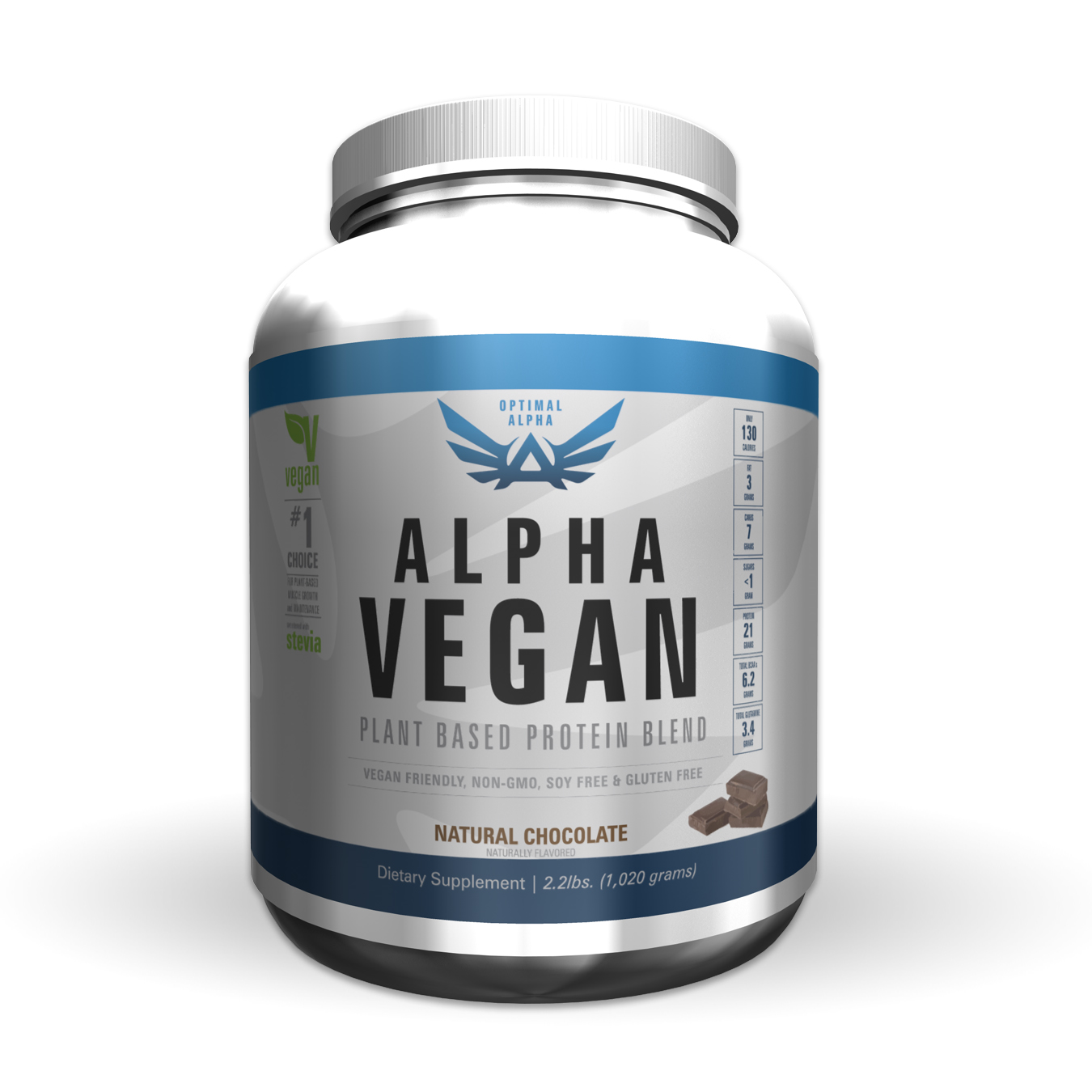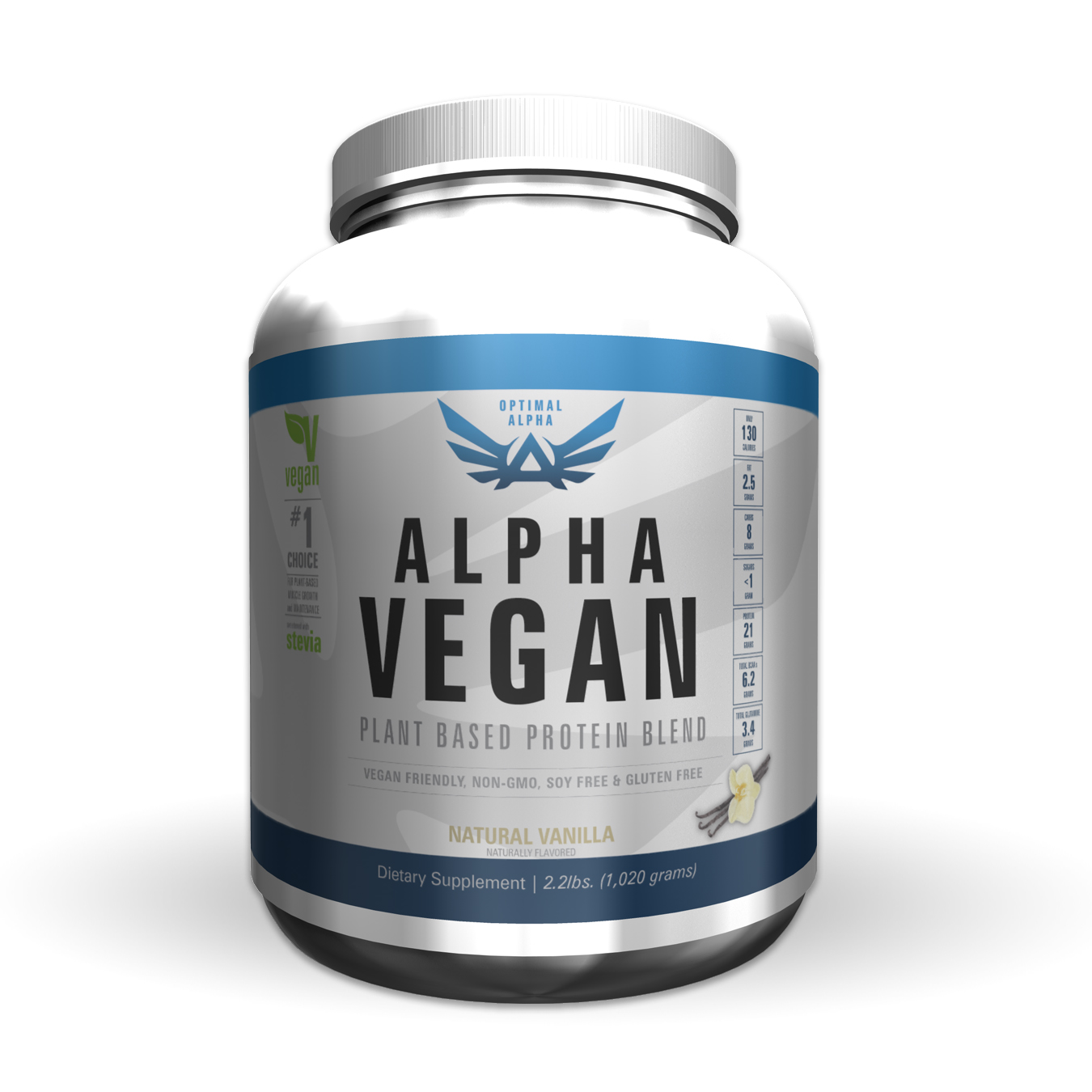 Product Reviews
Write Review
Previous | Showing reviews 21-40 of 50 | Next
Sugoi!

Posted by Quinton Jones on Jun 24th 2017

Being lactose intolerant I must be careful with protein powders. IMSOALPHA vegan protein gives me the added protein I need for my workouts and long work days in the Az sun. The flavor( chocolate or vanilla) is among the best I've tried. Results without the heavy bubble guts feeling.

Best protein I have used

Posted by Zach Scott on Jun 21st 2017

The protein is not overly sweet and sugary yet still tastes good and provides an excellent clean plant based protein and essential BCAA's.

This stuff is awesome!!

Posted by Keyon Patterson on Jun 13th 2017

I was surprised at the taste of this stuff! Also I was super shocked at how fast this arrived! It was literally the NEXT DAY! I'm hooked!

AMAZING!!!!

Posted by RaShawn on Jun 10th 2017

I was looking for a plant based protein for awhile and all the ones I tried did not live up to the hype. Mikes alpha vegan is best protein I've tasted. It's smooth, mixes really well and taste amazing!

Best vegan protein!

Posted by Nasiir Netcher on May 18th 2017

I was about to give up on trying vegan protein powders. Probably tried about four of them. I'm actually proud to say I am no longer looking for another one. With an item like this keeps loyal customers.

Best Protein Ever

Posted by Jason on May 10th 2017

Best tasting
Mixes easy
No After taste
Taste like Chocolate
Reasonable Price.
I have tried at least 30 different protein powders and Alpha Vegan is the BEST!!!

Great Protein

Posted by Zach Scott on May 10th 2017

Arrived 3 days faster than expected. Customer service was fantastic. High quality ingredients. What more could you ask for?

Get it!

Posted by Adam on May 4th 2017

Taste fckn amazing. I even use this to mix it with pancake mix, and the pancakes taste like no other.. Vegan protein is really the best type of protein to digest in general. I also like how it has the breakdown of the amino acids and out of the ones I've gotten, Alpha Vegan is on top


Best Tasting Plant Protein Ive Tried

Posted by Ike Thomas on May 3rd 2017

I have tried many plant protein brands and I didn't like the taste and the usual grittiness after mixing. This protein mixes well and also tastes great. The fact that quality ingredients are used is a plus.

very effective!

Posted by Raul on Apr 29th 2017

This has been the best protein I have ever had. I have a throid problem and have a hard time digesting foods and proteins, but this makes me feel good and I am able to digest this with ease. I also like that this protein is better for your liver. This don't make my side hurt and other protein do. Great product!!

life saver

Posted by Unknown on Apr 29th 2017

I've been following a plant based diet for about 3 months and I'm grateful to have found this product.

great taste! mixes well. great protein!!

Posted by johnny on Apr 28th 2017

Love the taste of this protein, mixes well with almond milk. Will keep ordering more

Great substitute to whey and egg protein.

Posted by E!! on Apr 25th 2017

I mixed with water and fruit , taste better than I expected.
I'm going to mix with coconut or almond milk next for my next experiment trail.
Totally impressed!

#1 Plant Based Protein

Posted by Colt Christian on Apr 18th 2017

This protein is the best quality on the market. It's hard to find plant based protein with quality ingredients, as well as a great taste. This product has the perfect balance of flavor profiles, and unlike most protein, it mixes well.

Out Of This World!!!!!!! :)

Posted by Bishop Watkins on Apr 4th 2017

First off I would like the team over there at ImsoAlpha for pumping out a great product. What makes this product so great and all the other products I buy from this team is the customer service they dish out. I live in Hawaii and most times ordering things can take a while for me to receive them but not with ImsoAlpha. I always receive my purchase 3 days or less depending on what day I order. To top it all off they take the time sign and thank me for my order with a little smiley face. It just feels personal for me. Now back to the product itself. I'm currently on my second jug and this stuff is amazing. Let's start off with the pros.
Pros-Taste is great
-------Mix well
-------Two dominating flavors
-------Only need one scoop not no 3&4
-------No side effects and easy on the stomach
Cons- well I don't have any


Great product

Posted by Dominique Fleming on Mar 29th 2017

Great product first time trying any vegan based product and I would have to say I will be buying this again as soon as I run out. Taste is also good I would highly recommend it to anyone trying to get away from dairy and still manage to get the same protein intake.

RIDICULOUS

Posted by Sefa Fitisemanu on Mar 29th 2017

I ABSOLUTELY LOVE THIS STUFF!!!!! It doesn't leave me bloated like the other protein powders from other vendors. I will always be buying from IMSOALPHA.

Simply Amazing

Posted by Unknown on Mar 28th 2017

I have tried every vegan protein on the market and I must say this one supersedes them all. It is tasty, keeps you full and satisfied. I met Mike at the LA Fitness expo and truly impressed with his professionalism. Please support this company and it's amazing products.

I love it!

Posted by Unknown on Feb 11th 2017

The powder blends perfectly in my shaker cup and in my blender! The taste of it was so smoothly and satisfies my sweet tooth.

Amazing!!!!!

Posted by Pete/ Koncrete Kombat on Jan 28th 2017

I am very pleased with this product. It tastes great and delivers as stated. If your looking for a Vegan based protein look no further. I have tried practically everything else on the market, and this is by far superior to all of them. Just read the ingredients and thats a wrap!!!! Thanks Mike..
Find Similar Products by Category
 ​