Product Description
ALPHA VEGAN PLANT BASED PROTEIN
FOR PLANT BASED MUSCLE GROWTH AND MAINTENANCE. A TRUE BODYBUILDER'S GO TO PLANT PROTEIN
100% vegan and vegetarian formula
21 g of

protein

from our ALPHA VEGAN Matrix blend
Added enzymes for easy digestion
Sacha inchi and chia seed for added omega support
Non GMO
No artificial flavors, colors, sweeteners or preservatives
No gluten, soy, dairy or wheat
Mixes easily and tastes GREAT
This Plant based protein is unlike any other on the market. It provides 21 g of easily digested protein from our ALPHA VEGAN matrix blend without the grainy, bitter taste of the typical plant protein. With BCAA's and glutamine to save and repair hard earned muscle and digestive enzymes to aid in digestion without compromising the taste or silky smooth texture. Our formula was designed with all lifestyles in mind and is 100% vegetarian and vegan friendly.
Are you aware that it's recommended your daily caloric intake consist of at least 15-35% protein?
Since most of us get our protein from animal meat and other dairy sources, getting enough protein in their diets can be quite a dilemma shared by vegans and vegetarians alike.
As a matter of fact, there's not really much need to eat meat in order to nourish your body. This is because there are plenty of all natural plants which provide us with the same amount of protein as fish, meat or poultry. PLANT BASED PROTEIN is actually a whole lot healthier for you because it generally contains lower levels of saturated fat compared to meat or dairy based protein. Not to mention, plant based proteins contain absolutely no hormonal additives and are exponentially easier to digest than meat and dairy.
To ensure your body gets the appropriate amount of essential nutrients, we have specially formulated our ALPHA VEGAN Plant Based Protein. Our exclusive powdered formula includes a unique blend of various plant based proteins, along with BCAA's (Branched Chain Amino Acids) and glutamine to naturally build, repair and sustain healthy muscles.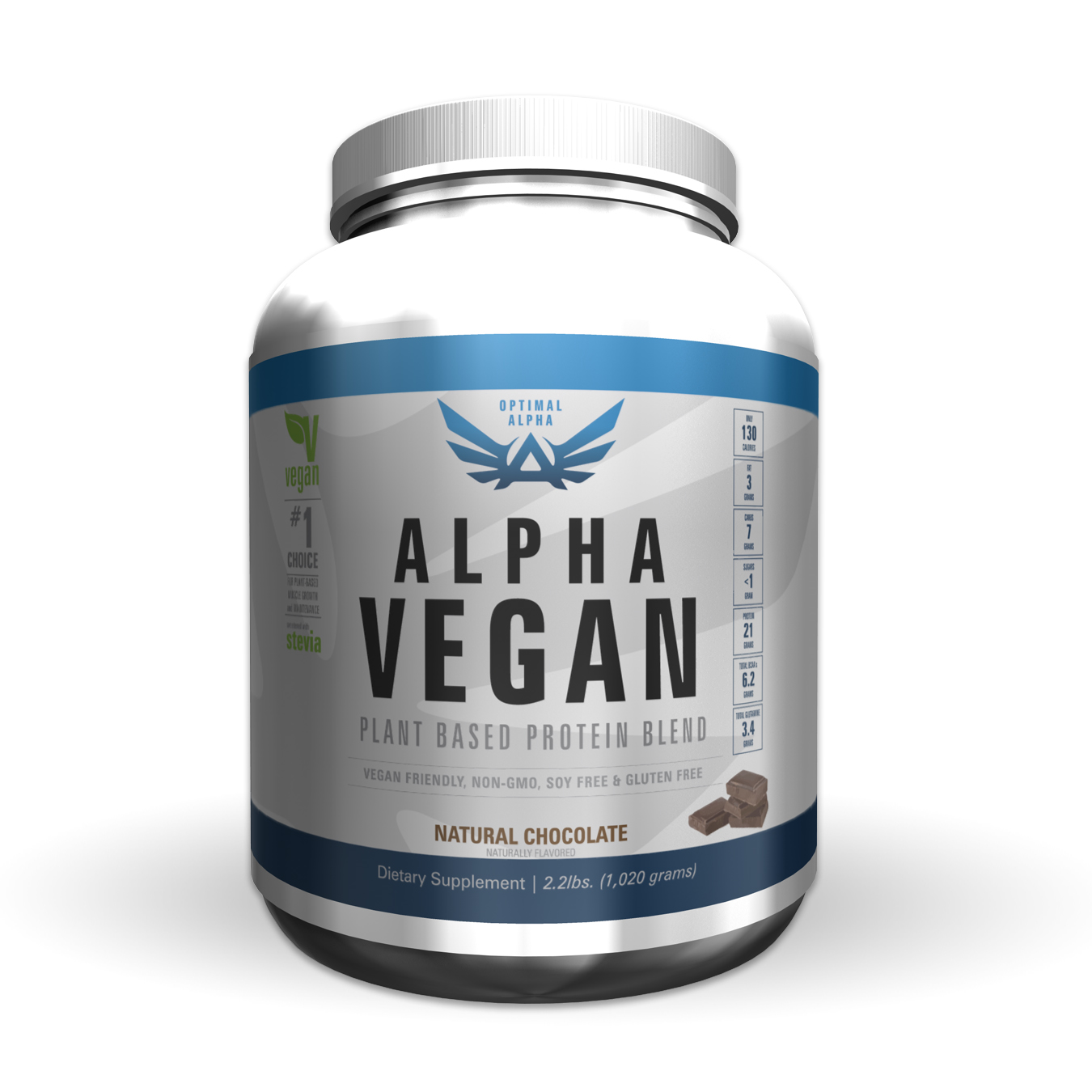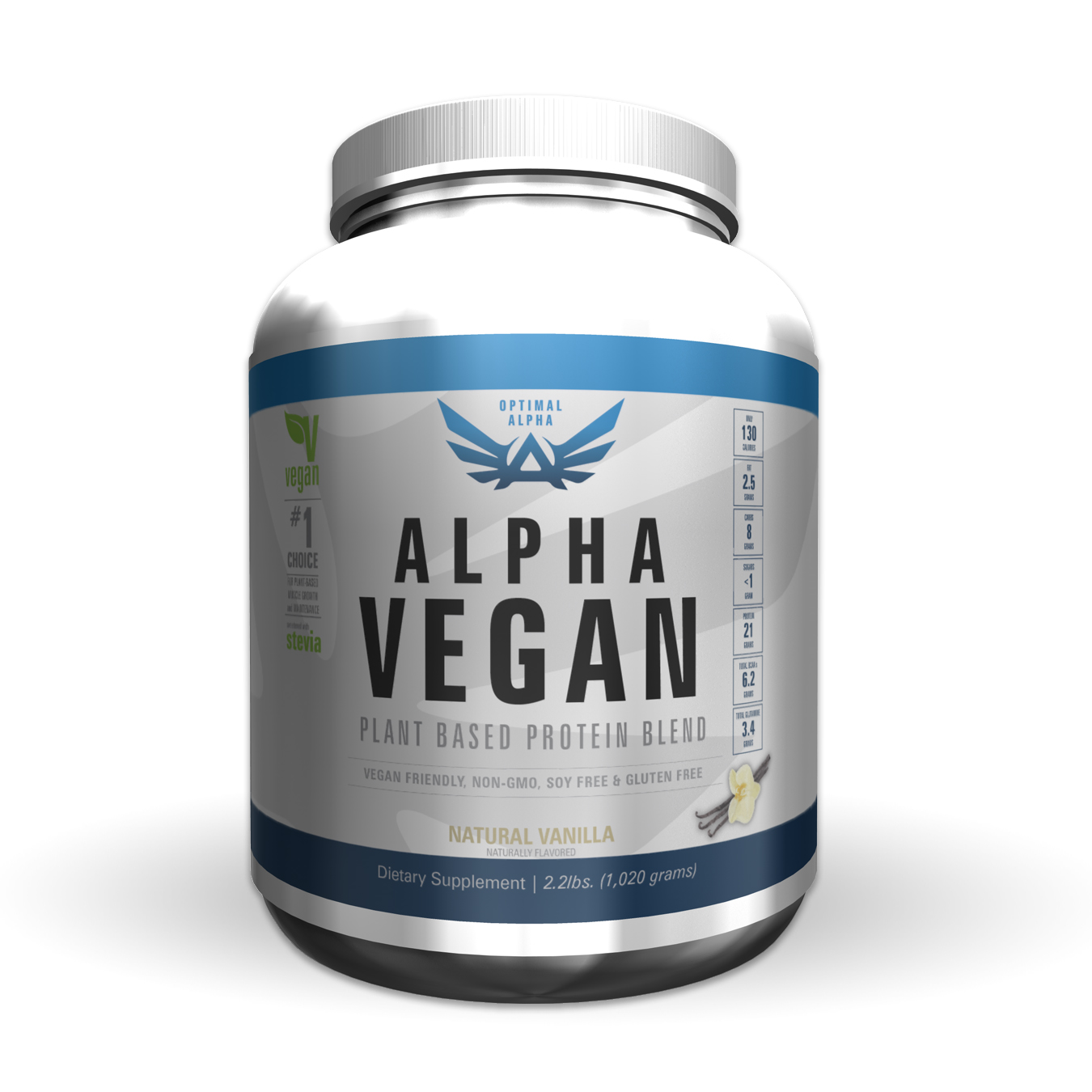 Product Reviews
Write Review
Showing reviews 1-20 of 50 | Next
Great alternative, mixes easy

Posted by Unknown on Apr 25th 2018

BOMB!! Great alternative to regular protein. Good stuff Mike!

The best ive ever had!!

Posted by Unknown on Apr 5th 2018

im a 49 yr old man that has been taking protien from age 17..i have to tell u..this is the best protien ive ever had!!it doesnt clump up or is not chalky...the no fillers doesnt have your stomach feeling bloated and hurting!!keep up the good work mike!!cause im gonna keep buying!!!

Easy to mix Great taste

Posted by Tyrone Cabbell on Mar 10th 2018

Vegan protein mixes great taste great and works great..For those who need a little extra protein I recommend it..

Container was actually full!

Posted by Gabriel Avila Jr. on Mar 8th 2018

This protein powder beats any I've ever had both taste-wise and effectively. I don't even add anything else to it. Just my choosing of plant-based milk and I roll out.
To top it off, unlike most protein containers this one was pretty damn full compared to the rest. Will buy some again.

Better than whey

Posted by Will on Mar 7th 2018

Am 3 tubs into the vegan protein and it is miles better than any other whey protein I've had. I'm no where near vegan but the whey messed my stomach up after working out. The chocolate is so smooth and tastes miles better than whey as well. If you have the same problem as I did, dreading the whey shake after a workout, try the vegan. Alpha products are the best I've had.

Feels good in my body

Posted by Prabha on Feb 27th 2018

This protein powder feels good in m body as it does not leave me feeling un energetic. It gives me good energy and I know Mike is intending his products to be of high quality made with integrity and love. I can feel the love that he puts in his products. As Mike becomes aware, so do his products as they are an extension of him.

Best vegan protein thus far

Posted by Shayne Thomas on Feb 12th 2018

Creamy, smooth and with just the right thickness, this vegan protein shake is unparalleled.

NB: I'd recommend using Silk vanilla almond milk instead of water. It makes the difference.

Vegan Protein

Posted by Unknown on Dec 19th 2017

Best vegan protein powder ever

Overall

Posted by Unknown on Nov 16th 2017

The delivery of the product was fast and the taste is great

Best Plant Protein Ever!!!

Posted by Mark on Oct 21st 2017

I started trying different plant based protein powders in November 2016. A friend of mine recommended IMSOALPHA in July. I wish I would found this way before that!!! You can tell the difference in texture immediately. The biggest difference is there are NO FILLERS that other brands put in there. How can you tell... your stomach is not in knots after drinking it. I have. Ever felt better. I mix it with the Alpha super food. My favorite is chocolate but vanilla is not bad. If they had a peanut butter one than I might be in heaven.

GREAT POSTWORKOUT SHAKE

Posted by PJ on Oct 19th 2017

Mixes easily and I'm able to digest it very well I'm also not as sore as I normally would be... great product

Great Shake

Posted by Regina Mapp on Sep 11th 2017

Great tasting and mixes flawlessly

great product!

Posted by Unknown on Aug 24th 2017

Great product taste really good

vegan protein

Posted by burgundy supreme on Aug 21st 2017

Good taste...just added it to my diet...to early too tell how well it works for me

super duper foods

Posted by burgundy supreme on Aug 21st 2017

Best tasting super foods ever... works fast on clean out the toxics
And the impurities the body doesn't want

My go to Protein

Posted by Zach Scott on Aug 20th 2017

This protein is very clean and provides the performance and caloric intake that i strive to achieve.

Alpha

Posted by Christopher Miles on Aug 14th 2017

Phenomenal stuff great taste and effective.

Alpha Vegan is the best on the market.

Posted by Abbas on Aug 1st 2017

I love the Alpha Vegan plant-base protein blend because of it great taste. But I especially like it because it has less than one gram of sugar as well as other important supplements. I mix mine with unsweetened coconut milk. peanut butter and the superfood alpha blend and the overtraining solutions. I definitely recommend these products.

tasty!

Posted by ralphieb81 on Jul 28th 2017

Pretty tasty protein. Never really had a plant based protein before but I can barely tell the difference. Slightly a bit grainy if you shake it but in a blender with some ice and almond milk it taste like a delicious chocolate milk shake. I'll buy again for sure

Smooth and Tasty

Posted by Pooh on Jul 19th 2017

This is some great Vegan Protein.
Showing reviews 1-20 of 50 | Next
Find Similar Products by Category
 ​